See this feature in action on our demo site Placester Realty!
The video, and article below it, will walk you through how to set up IDX pages on your Placester site.
What are IDX pages?
IDX pages are advanced page templates that are available with advanced subscriptions. While all subscription levels allow you to create Area Pages based on cities, zip codes and neighborhoods, IDX pages provide a more customizable approach that allows you to select a combination of search criteria to create search pages that are tailored to your specific needs. The criteria used to narrow down the listings on the search page are more expansive than on Area Pages. You can view the newly available filtering criteria for IDX pages below: 
IDX Pages vs. Area Pages
The layout of IDX pages is slightly than that of Area Pages. IDX pages create a search page that is narrowed down to just the criteria you have selected, while Area Pages allow you to create a set list of listings and a number of featured images and descriptions. Many customers still use area pages to create neighborhood or city pages that include images and area descriptions, but will use IDX pages to create a "My Office Listings" or "My Listings" page, for example.
How do I create an IDX page?
You can add an IDX page through your dashboard.   You will first need to log into the back-end of your site. Once you've done this, click on Create a Page under Quick Actions .
If you are already logged into your backend menu, click on Pages, at the top of the screen.
Once you're in Pages, you will click the (+) symbol and you will be taken to where the page creation section.
Here, you will choose IDX pages as the Template for the page. Next to page title, you will input what you want the page to be called.
You have the ability to add content to the page about the area you would like to feature.  This includes text, photos, video etc.  This step is recommended by Placester as the more content you place on your site the easier it becomes for Google to find it it searches.   
If you have access to the Map Search functionality, you can choose whether or not this IDX page will default to the map search on the live site.  It is important to note that currently if you choose map search, any content you have added will not show.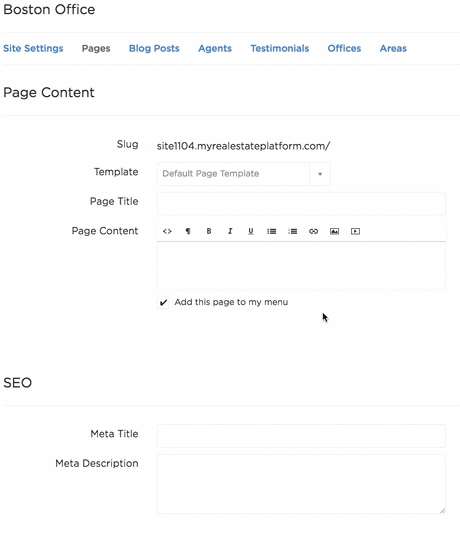 In the example below, we are creating an IDX page title Cambridge 2 bedroom homes for Cambridge, MA homes with a maximum of 2 bedrooms and 2 baths, and minimum of 4000 sqft. First, you need to add the specific criteria you would like to use. Here, we will be using Max Beds, Max Baths, City, and Min Square Feet as the search criteria for the IDX page.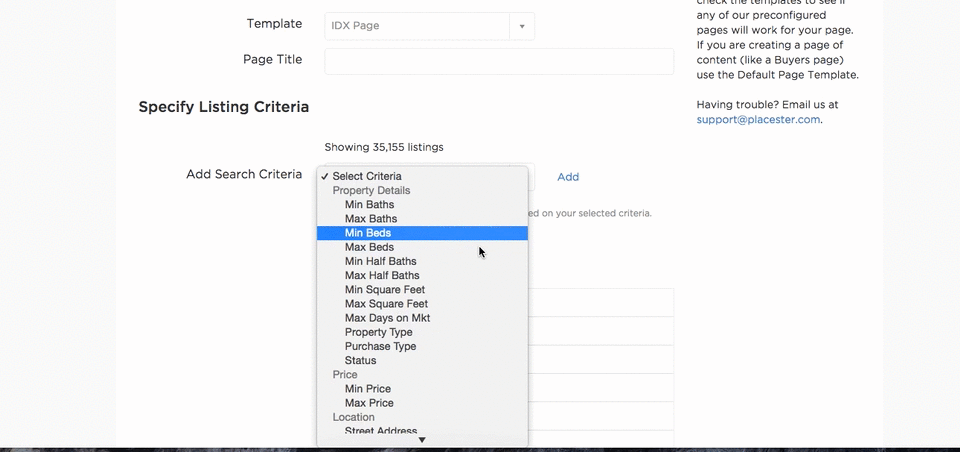 Once the desired criteria has been added, you input the values and hit search.
This populates all the listings that fall within the specified criteria. In this case, only five listings showed up. This was due to the limited criteria that was inputted. An IDX page is not limited in the amount of listings that will show up on the search page.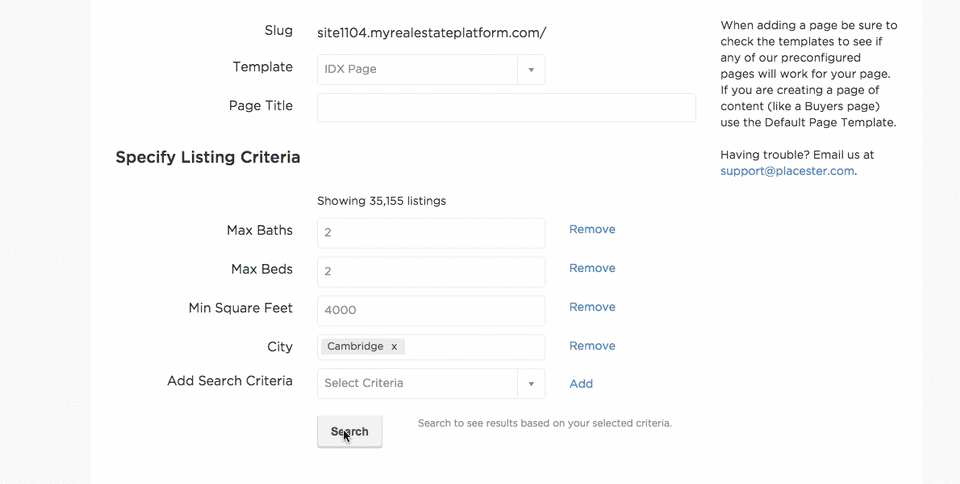 By default, the listings on your IDX page will be displayed by most expensive to least expensive.  However, if you do wish to sort your listings in a different manner, you have the option to do so.  In order to change the way your listings are sorted, click on the dropdown menu next to Default Sort.
You will then see the list of options you can sort by.
Choose which sort option is best for you, then click search to update your filters.  This order will now be reflected on the front end of your site. 
After this is done, you can go to the bottom of the page and click save. Checking off the box that says "add this page of my menu" will automatically add this IDX page to your menu tab, labeled by what you inputted as the Page title. 
 Need more help?
If you have additional questions about IDX pages, let our support team know at support@placester.com.